Metal Stitching Repair of Cast Iron Element on Deepwater Pathfinder Vessel

Step by Step Report Presentation
The crew of the Deepwater Pathfinder vessel identified a cast iron repair need while at sea for their V18 cylinder diesel engine. At LOCK-N-STITCH Inc. we are global leaders in cast iron repair utilizing our metal stitching technology which was ideal for this in-situ solution. New cast iron sections were fabricated and sleeves were installed and sealed using metal stitching pins. During the installation process and after completion magnetic particle inspections were conducted with dry powder or wet particle methods. The repair was also leak tested and showed no spaces, gaps, or cracks around the repaired sections.
This in-situ cast iron repair was completed in 8 weeks and avoided dry docking the drillship which could have added extra travel time, fuel, and expenses for the operator. With our comprehensive inspection processes we ensured our work as it was completed, eliminating the option for crack failures. This is just one example of the innovation of our metal stitching technology and our capacity to complete any job, anywhere.
To learn more about this project, or the processes used to repair it, see the table below or contact us directly.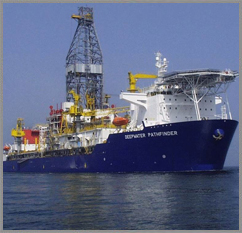 Deepwater Pathfinder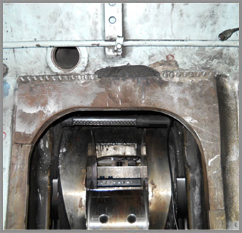 V18 cylinder diesel engine after
LOCK-N-STITCH Inc. repairs

Full-Torque Products Used:
Crack Repair Tools Used:
Highlights of the Metal Stitching Repair Project
Cast Iron Crack Repair Capabilities Applied/Processes

Primary: metal stitching
Secondary: onsite machining, drilling, boring, milling
Equipment Used to Manufacture Part

Stitching pins,
Overall Part Dimensions

V18 Cylinder Diesel Engine
Material Used

Installed new cast iron sections. Sleeves
In process testing/inspection performed

Magnetic particle inspection, leak tested
Industry for Use

Shipping
Delivery/Turnaround Time

Eight weeks to repair
Product Name

Deepwater Pathfinder
Additional Facts

The DEEPWATER PATHFINDER is a designed dynamically-positioned drillship that was designed for operations in 10,000 feet of water using 18 3/4in 15,000 psi BOP and 21in OD marine drilling riser.
More Engine Metal Stitching & Crack Repairs

Cruise Ship Final Report 2012 (PDF - 3.21 MB)

Cruise Ship Repair Final Report 2011 (PDF - 4.01 MB)

Damaged MAK Engine Block Repaired 3-7-13 (PDF - 747 KB)

Drilling Ship Wartsila Engine Repair Final Report (PDF - 8.17 MB)

Glotens Miami GE No 3 Final Report (PDF - 3.64 MB)

LNG Tanker Wartsila Engine Repair Final Report (PDF - 11.1 MB)

Man Diesel Final Report Nov 2012 (12 18 2012) (PDF - 3.67 MB)

MAN Main Engine Repairs After Failed Weld Attempt (PDF - 917 KB)

Sea Escape (PDF - 7.26 MB)

Shughart Final Report (PDF - 859 KB)

Tugboat Pot Side Rotary Stering Pod Housing Repair (PDF - 0.98 MB)

Turbo Air Box Repair on Cruise Ship (PDF - 1.22 MB)

Wartsila 32 Generator Crack Repair 32 (PDF - 731 KB)

Wartsila 46 Damage Repair 2013 (PDF - 1.00 MB)