In-House & On-Site Machining Services
At LOCK-N-STITCH Inc. we provide emergency in-house and on-site machining of damaged machinery parts. Our large inventory of portable machining equipment gives us the ability to provide the majority of our services on-site when needed. We work with a range of metals, such as cast iron, aluminum, carbon steels, bronze and stainless steel. LOCK-N-STITCH Inc. has the expertise and experience required to design and manufacture fixtures and tooling in-house to ensure high quality repairs, consistently and deliver on the promised turnaround times. We are in the emergency repair business in both our manufacturing division and our repair services around the world.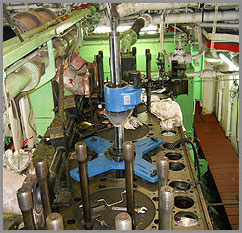 Because we understand the demands placed on our clients and their commitment to their customers, our emergency services are available 24-7. We take quality seriously; we're ISO 9001:2008 Certified to ensure we meet our clients' specifications and expectations. For more information on our in-house and portable repair machining services, please see the table below or contact us directly.
In-Shop and Portable Repair Machining Capabilities
General Capabilities

On-Site
In-Shop

Metal Stitching Repairs
Threaded and Through Hole Repairs
Machining Processes

Horizontal Milling
Bed Milling
Vertical Turning (VTL's)
General Turning
Deep Hole Drilling
Parting/Cutting
Facing
Turning:

Contour Turning
Form Turning
Taper Turning
Straight Turning

Threading
Boring
Drilling
Counterboring
Countersinking
Reaming
Tapping
Tolerances

In Field: ± .001 in
In-House: ±.0003 in
Part Diameter

Max (In-Shop Turning)
56 in
1422.4 mm
Max (Deep Hole Drilling)
20 in
508 mm

Min (Horizontal Boring)
1/2 in
12mm
Max (Horizontal Boring)
36 in
914.4 mm
Part Length

Max (Deep Hole Drilling)
24 in Stroke
609.6 mm Stroke

Max (Horizontal Boring)
6 ft
1828 mm
Materials

Cast Iron
Aluminum
Carbon Steels

Bronze
Ductile Iron
Fixtures

In-House Designed and Manufactured Fixtures & Tooling
Additional Machining Capabilities

Wire EDM
Grinding


Cylindrical
Centerless
Surface
Lead Times Available

Emergency services available


We Work Around the Clock to Meet your Demands
Industry Focus

Agricultural
Architectural Castings
Automotive
Construction
Corrugated Box
Gas Compression
Internal Combustion Engines
Machine Tools
Manufacturing
Marine

Metal Working
Mining
Oil refining
Power Generation
Railroad
Shipping
Tire manufacturing
Transportation
Trucking
Intended Application

Automotive Engines Compressors
Ship Engines
Diesel Engines

Earth Moving Equipment
Fork-Lifts
Gears
Pumps
Stamping Presses
Stationary Engines
Turbines
Industry Standards

ISO 9001:2008 Certified
International Organization for Standardization
File Formats Accepted

Alibre Design
AutoCAD (DWG,DXF)
BMP (Bit Mapped Graphics)
GIF (Graphics Interchange Format)
IGES (Initial Graphics Exchange Specification, ANSI file format.)

Inventor (IDW, IPT)
JPG or JPEG (Joint Photographic Experts Group)
PDF (Portable Document Format)
STEP (Standard for the Exchange of Product Model Data)
TIFF (Tagged Image File Format)