Metal Stitching & Crack Repair of Cast Iron Mining Element for L&H Mining

Step by Step Report Presentation
A customer in the mining industry needed the repair of a crack on a 10' x 10' cast iron Marcy discharge head. At LOCK-N-STITCH Inc. we excel in critical cast iron crack repair such as this. Our metal stitching processes are ideally suited for this type of repair project. The discharge head had multiple cracks on several rough and machined surfaces; we identified 9 different crack dimensions ranging from 2.75" to 5.75".
We utilized our Castmaster® C-series stitching pins, L-series pins, and locks in addition to our Full-Torque® insert technology to make the necessary repairs. To ensure the integrity of the repairs we conducted magnetic particle inspections to ensure quality repair and satisfy mining industry standards. We then hand finished the contour of cast iron repair to the original surface profile. The entire project was completed in only 8 days. At LOCK-N-STITCH Inc. we specialize in time sensitive repairs, and provide this innovative service to industries that cannot afford extended down time.
To learn more about this project, or the processes used to repair it, see the table below or contact us directly.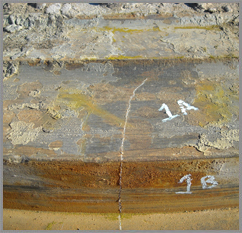 BEFORE: Cracked Marcy
discharge head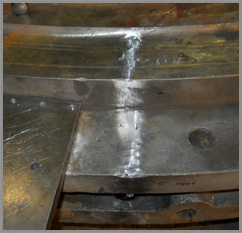 AFTER: Repaired Marcy
discharge head

Full-Torque Products Used:
Crack Repair Tools Used:
Highlights of the Metal Stitching & Crack Repair Project
Product Description

10 x 10 Discharge Head Mfg. Marcy damaged due to normal operation. Crack starts at 1A, measuring 4.5" long. It proceeds onto surface 1B, and measures 2.75" long. 1A is in rough casting, while 1B is a machined surface.
Cast Iron Crack Repair Capabilities Applied/Processes

Primary: Metal stitching
Equipment Used to Manufacture Part

C4B stitching pins, C3B stitching pins, C4C stitching Pins, C2.5A. Installed (1) L60S lock, (4) L60B locks, (1) L40S lock and (4) L40B locks in 1C. (Retained locks with (4) L6A pins). Installed FPS15 insert into thru hole on 1E. Insert was pre-drilled to 1.625" on the inside diameter and parted off at 1.250" from the bottom before installation. A step of 0.025" was left on the inside of the flange for the thru bolt washer/nut to rest on. Installed (1) L50S lock and (5) L50B bottom locks in 1G. (Retained lock with (2) L6A pins). Installed (1) L60S lock and (2) L60B bottom locks in 1H. (Retained locks with (2) L6A pins).
Overall Part Dimensions

Length of crack/s

1A 4.5"
1B 2.75"
1C 5.125"
1D 5"
1E 3.75"


1F 2.75"
1G 5.75"
1H 4.5"
1J 3.75"
1K ?
Material Used

Metal stitching pins and locks
Material Finish

Hand finished to original surfaces
In process testing/inspection performed

Mag particle inspection
Industry for Use

Mining Industry
Delivery/Turnaround Time

8 days
Delivery Location

Phoenix, Arizona
Standards Met

Customer Requirements
Additional Facts

L&H is a vendor that rebuilds this equipment and contracts with LOCK-N-STITCH
More Engine Metal Stitching & Crack Repairs

Ball Mill Head Repair Report (12.13.2012) (PDF - 5.21 MB)

CAT 789C Minning Truck panrail Repair (PDF - 5.95 MB)

Cement Mill Bowll Table (PDF - 896 KB)

Crusher Crack Repair Final Report (12 18 2012) (PDF - 5.36 MB)

Dragline Gear Repair (PDF - 11.8 MB)