Metal Stitching & Reinforcement of Cast Iron Embossing Press

Step by Step Report Presentation (PDF - 9.07 MB)
A customer with an embossing press identified a crack that had occurred under normal operating conditions. At LOCK-N-STITCH Inc. we specialize in metal stitching cast iron repair and have the capabilities for reinforced enhancements that suited the needs of this cast iron repair project. A magnetic base drill was used to ensure the precision installation of the L60 locks, and the Castmaster® C4 stitching pins. The use of this patented system of metal stitching provides a repair that is far stronger and durable than simple welding.
As this cast iron crack occurred during normal operations we wanted to repair the embossing press to become better than new. To avoid having another crack occur in a different location, we fabricated a special reinforcement bracket and mounted it over the side of the frame on the press. Using a combination of bolt tightening and heat from an oxy-acetylene torch the bracket contracted and was successfully mounted for additional durability. This onsite cast iron repair project was completed in 5 days. We were pleased to be selected by this customer to complete this cast iron repair and utilize our metal stitching technology in addition to our other cast iron repair capabilities.
To learn more about this project, or the processes used to repair it, see the table below or contact us directly.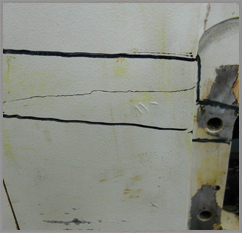 BEFORE: Damaged Label
Press Machine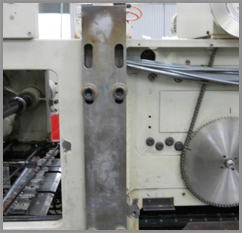 AFTER: Repaired Machine with
Locks and Stitching Pins

Full-Torque Products Used:
Crack Repair Tools Used:
Highlights of the Metal Stitching & Reinforcement Repair Project
Cast Iron Crack Repair Capabilities Applied/Processes

Primary: Metal Stitching
Secondary: Reinforcements to make it stronger than new
Equipment Used to Manufacture Part

Mag Base Drill, Portable Milling Machine, Precision Drill Jigs, L60 Lock, C4 Castmaster® Stitching Pins, Reinforcement Brackets, Oxy-acetylene Torch
Industry for Use

Miscellaneous Castings
Delivery/Turnaround Time

5 days
Delivery Location

Napa, California
Product Name

Repair on Embossing Machine
Additional Facts

Not only did LOCK-N-STITCH repair the crack, but also reinforced the damaged areas. Fabrication of special brackets, and onsite machining.
Why did you choose this project to showcase?

Shows multiple repairs and technologies, and capabilities for reinforced enhancements.