Precision Threaded Hole Repair (Machining) Services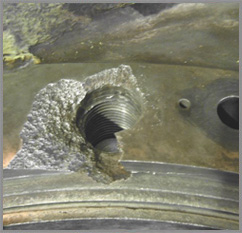 LOCK-N-STITCH Inc.'s revolutionary thread repair inserts leverage our new and patented technologies to facilitate in-shop and on-site installation. These thread repair inserts offer a range of benefits. For example, they fit flush to the surface and withstand high-pressure environments in addition to providing higher torque values than the actual fasteners that are torqued into them.
Inserts are available in female NPT threads up to 1.5", and up to 4" for inner-diameter thread sizes. Custom sizes can also be manufactured to suit a variety of applications. Solid plugs are also available to provide customers with the ability they need to create their own thread inserts for emergency situations that require non-standard threads. To suit specific applications, thread inserts are offered in several material types, such as 1144 stress-proof steel, hard-anodized aluminum and heat-treated steel with a hardness of 40 Rc.
For more information on LOCK-N-STITCH Inc.'s thread repair inserts and thread repair services, please see the chart below or contact LOCK-N-STITCH Inc. directly.
Thread Repair Capabilities
General Capabilities

Permanant threaded bolt hole repair

Various styles to meet most requirements

On-Site
In-Shop
Repair

Drilling
Machining

Drilling
Machining
Thread Types

Inch and Metric
Spark plug threads
1/4"/ 6 mm up to 4" or 100mm

Tapered Pipe threads
O-ring boss
Specials
Features

Repair of cracked bolt holes
Withstands High Pressure Environments
Inserts Withstand Higher Torque Than the Fasteners that will be torqued into them
Solid Plugs Manufactured for Emergency Applications
Inner Diameter of Thread Inserts

Max (Internal Threads)
4.00 in


100 mm
Custom inserts Available
Materials

Heat Treated Steel
1144 stress proof steel


Hard anodized aluminum
Stainless Steel
Areas Served

Worldwide
Industry Focus

Agricultural
Architectural Castings
Automotive
Construction
Corrugated Box
Motorcycles Internal Combustion Engines
Machine Tools
Manufacturing
Marine

Metal Working
Mining
Oil & Gas
Power Generation
Railroad
Shipping
Tire mold manufacturing
Transportation
Trucking
File Formats Accepted

Alibre Design
AutoCAD (DWG,DXF)
BMP (Bit Mapped Graphics)
GIF (Graphics Interchange Format)
IGES (Initial Graphics Exchange Specification, ANSI file format.)

Inventor (IDW, IPT)
JPG or JPEG (Joint Photographic Experts Group)
PDF (Portable Document Format)
STEP (Standard for the Exchange of Product Model Data)
TIFF (Tagged Image File Format)