Furnace Brazing & Cast Iron Fusion Welding

Cracked Crusher Flywheel Brazing Repair (PDF - 5.79 MB)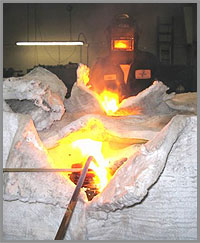 At LOCK-N-STITCH Inc. we offer proprietary furnace brazing and cast Iron furnace brazing processes that rely on high temperature preheating of cast iron parts prior to the welding process. Furnace brazing requires 1000 °F. and cast iron fusion welding requires 1500 °F. Both processes utilize acetylene torch methods. We never arc weld on cast iron. Arc welding with nickle electrodes made by all manufacturers will only cause more damage by creating even more cracks than there was before the weld attempt plus the cast iron will become so hard it will not be machinable. Failed arc-welded castings will always cost more to repair and often cannot be repaired. Without high temperature preheat in an oven environment, welding cast iron usually results in disaster.
We provide a variety of additional services such as inspection, machining, metal stitching, non-destructive testing, failure assessment, and thread repair.
We are ISO 9001:2008 certified and work on all castings including automotive engines (high-performance and antique), compressors, ship engines, small diesel engines, earth-moving equipment, gears, pressure vessels, stamping presses, stationary engines and turbines for a variety of customers around the world. Our expertise extends to a range of industries, including but not limited to agricultural, automotive, manufacturing and remanufacturing, trucking, locomotive, marine, mining and oil and gas.
To learn more about our fusion welding and furnace brazing capabilities please see the table below or contact us directly.
Fusion Welding and Furnace Brazing Capabilities
Welding Process

Fusion Welding/Furnace Brazing

Proprietary Processes Developed by LNS
Oxyacetylene Process
Preheat Material up to 1,500ᵒF
Material

Gray cast iron, Ductile Iron, Cast steel,
Cast aluminum, and Brass/Bronze castings
Additional Services

Machining/Boring In-house and On-site
Metal Stitching In-House and On-Site
Non-Destructive Testing (NDT)

Pressure and Hydro testing
Failure analysis
Industry Focus

Agricultural
Architectural Castings
Automotive
Construction
Corrugated Box
Locomotives
Internal Combustion Engines
Machine Tools
Manufacturing
Marine

Metal Working
Mining
Oil & Gas
Power Generation
Railroad
Shipping
Transportation
Trucking
Intended Application

Automotive Engines Compressors
Ship Engines
Diesel Engines
Earth Moving Equipment

Fork-Lifts
Gears
Pumps
Pressure Vessels
Stamping Presses
Stationary Engines
Turbines
Industry Standards

ISO 9001:2008
File Formats Accepted

Alibre Design
AutoCAD (DWG,DXF)
BMP (Bit Mapped Graphics)
GIF (Graphics Interchange Format)
IGES (Initial Graphics Exchange Specification, ANSI file format.)

Inventor (IDW, IPT)
JPG or JPEG (Joint Photographic Experts Group)
PDF (Portable Document Format)
STEP (Standard for the Exchange of Product Model Data)
TIFF (Tagged Image File Format)