Metal Stitching & Crack Repair of Cast Iron Vintage 426 Hemi Block

Step by Step Report Presentation (PDF - 4.14 MB)
In this example of metal stitching, a customer came to us for the repair on a vintage 426 Hemi engine block. The block had suffered serve cracking due to freezing in the water jackets. At LOCK-N-STITCH Inc. we specialize in cast iron repair, and utilize advanced metal stitching processes that are ideal for this type of crack repair. We installed our drain plug full-torque thread repair inserts into the Hemi block initially and followed with our patented Castmaster® stitching pins to repair the 30" crack. After the repairs were made, their integrity was verified with magnetic particle inspections and pressure testing.
At LOCK-N-STITCH Inc. we take pride in the fact that we were able to save this rare vintage engine block. To ensure that the finished product met our own high quality standards, and those of the customer, we hand finished the repair to match the existing contours of the original block, including the matching numbers. This cast iron repair was completed in-house in only 3 days, and exemplifies the advantages of metal stitching over welding for cast iron repair.
To learn more about this project, or the processes used to repair it, see the table below or contact us directly.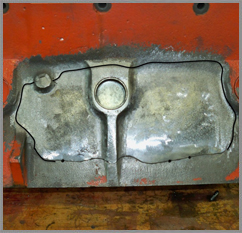 BEFORE: Freeze Damaged
426 Hemi Block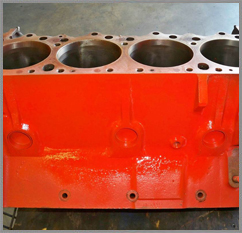 AFTER: 4236 Hemi Block after
LOCK-N-STITCH Inc. repairs

Full-Torque Products Used:
Crack Repair Tools Used:
Highlights of the Metal Stitching & Crack Repair Project
Cast Iron Crack Repair Capabilities Applied/Processes

Primary: Crack Repair
Secondary: Metal Stitching, Pressure Testing – Quality Assurance
Equipment Used to Manufacture Part

Drain Plug Full-Torque Thread Repair Inserts
Overall Part Dimensions

30" crack
Material Used

Castmaster® Stitching Pins
Material Finish

Hand finished to match existing contours
In process testing/inspection performed

Magnetic Particle Inspection, Pressure Testing – Quality Assurance
Industry for Use

Engines, Race Cars, Antique Restoration
Delivery/Turnaround Time

Repair took 3 days
Delivery Location

In-house repair
Standards Met

LOCK-N-STITCH company standards
Additional Facts

Permanent repair
More Engine Metal Stitching & Crack Repairs

1985 MAK Block 3-7-13 (PDF - 729 KB)

Aluminum Crack Repair (PDF - 6.69 MB)

Boat Engine Block Repair (PDF - 5.08 MB)

CAT Block Cracked Head Bolt Repair (PDF - 4.69 MB)

Cat Block Cracked Hole Repair (PDF - 5.17 MB)

CAT Engine Block Crack Repair (PDF - 0.99 MB)

Cracked Boat Engine Block (PDF - 0.98 MB)

Cummins L-10 (PDF - 0.99 MB)

Cummins Mod-B (PDF - 1.84 MB)

Steam Engine Crack Repair Final Report-10-13-13 (PDF - 912 KB)