Furnace Brazing of Cast Iron Flywheel for a Manufacturing Application

Step by Step Report Presentation
A customer in the manufacturing industry needed cracks repaired on a large cast iron flywheel. At LOCK-N-STITCH Inc. we are true metal craftsmen and have over 10 year's furnace brazing experience, which was the process necessary to repair this damaged 5' diameter flywheel. The damaged area was ground out to prepare it for the furnace brazing application; this also required the use of an oxy-acetylene torch and bronze rod. For this process our oven had to reach a temperature of 1000°F followed by a slow cool down period so the metal would not be distorted.
After the completion of the furnace blazing we hand finished and painted the flywheel to the customer's specifications. At LOCK-N-STITCH Inc. we can furnace braze cast iron products of all shapes and sizes; this large cast iron flywheel is just one example of our many in-house capabilities.
To learn more about this project, or the processes used to repair it, see the table below or contact us directly.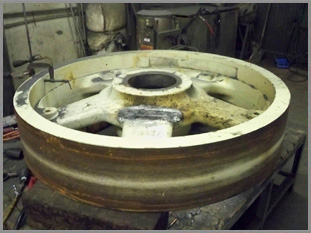 BEFORE: Damaged Flywheel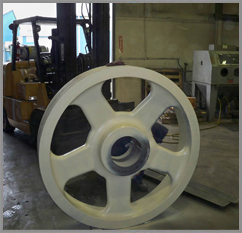 AFTER: Repaired Marcy
discharge head

Full-Torque Products Used:
Crack Repair Tools Used:
Highlights of the Furnace Brazing Repair Project
Cast Iron Crack Repair Capabilities Applied/Processes

Primary: Furnace Brazing
Secondary: Hand Finishing
Equipment Used to Manufacture Part

Oven, Oxy-acetylene Torch, Bronze Rod
Expertise

10 years furnace brazing experience required. Complex repair.
Overall Part Dimensions

5ft diameter
Industry for Use

Production and Manufacturing
Product Name

Large Cast Iron Flywheel
Additional Facts

Repair was made In-house
More Gas Compression Stitching & Crack Repairs

Flywheel Brazing Repair

RMC Repair