Metal Stitching & Furnace Brazing Cast Iron Gas Compressor Frame Repair

Step by Step Report Presentation (PDF - 6.59 MB)
During an on-site inspection a customer identified damage in their Tesoro compressor frame. LOCK-N-STITCH Inc. was called in to utilize a number of unique and patented technologies for cast iron repair, which were the ideal solution for this project. The damaged pieces were sent to our facility for repair, pieces that were beyond repair were used as templates for new castings. Sections that could be salvaged were arranged in the original configuration and furnace brazed. All damaged areas that would mate with the new casting were ground parallel to accommodate the metal stitching that would join the old and new sections. The stitching was completed using our patented Castmaster® stitching pins; this advanced systems creates repairs that equal to or better than new.
At LOCK-N-STITCH Inc. we can handle repair projects of all sizes, this compressor frame measured 6' x 5' x 5', the blown out hole measured 36"x 40". We worked 24 hours a day, for 15 days straight to complete this large cast iron repair project. After the repairs were completed we conducted wet and dry magnetic particle inspections to ensure case integrity. Lastly we contoured the finish of the Tesoro compressor frame to match its original shape. This project showcases our ability to apply multiple processes and deliver full service cast iron repairs.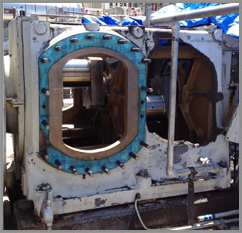 BEFORE: Damaged Copper Frame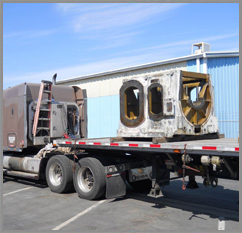 AFTER: Repair Copper
Frame Ready for Delivery

Full-Torque Products Used:
Crack Repair Tools Used:
Highlights of the Metal Stitching & Furnace Brazing Cast Iron Repair
Cast Iron Crack Repair Capabilities Applied/Processes

Primary: Metal Stitching
Secondary: Furnace Brazing, portable machining, finish grinding and contouring
Equipment Used to Manufacture Part

Steel plate, Mag Base Drill, FP7 Plugs, 7' Bed Mill, Locks
Overall Part Dimensions

Housing size: 6ft x 5ft x 5ft
Hole for repair: 36" x 40"
Material Used

Large Castmaster® stitching pins, locks. Brazed broken pieces to steel plate.
Material Finish

Contoured to match original shape
In process testing/inspection performed

Wet & Dry Mag Particle Inspection
Industry for Use

Gas Compression
Delivery/Turnaround Time

15 day repair. 24 hour work cycle
Delivery Location

Martinez, California
Product Name

Tesoro Compressor Frame
More Engine Metal Stitching & Crack Repairs

Agrium Flange Repair (PDF - 1.68 MB)

Chevron Diaphram Final Report 8-15-2013 Rev (PDF - 2.43 MB)

Compressor Cylinder Gouge Repair by Brazing (PDF - 4.73 MB)

Cooper Compressor Frame Final Report (PDF - 6.59 MB)

Dresser Rand Final Report (10 16 2012) (PDF - 2.03 MB)

Dresser Rand Merit Co2 Plant Compressor Final Report (PDF - 3.92 MB)

Ingersol-Rand KVS Compressor Repairs (PDF - 8.44 MB)

Oxy Doghouse Repair (PDF - 6.39 MB)

Worthington Compressor 4-8-2013 (PDF - 2.05 MB)