Metal Stitching & Crack Repair of Cast Iron Architectural Element for the US Capitol Dome

Step by Step Report Presentation (PDF - 953 KB)

Giving a symbol of our nation a makeover
The US Capitol dome needed repair of a cast iron crack in the architectural castings. At LOCK-N-STITCH Inc. we specialize in cast iron repair with our innovative metal stitching processes, which was the ideal solution for this project. This repair required special brackets to be fabricated to secure the 40" broken section of cast iron.
Because the piece was an original 1855 casting, its historical value ruled out reproduction. Bringing it back to original condition required a unique system of double hook thread stitching pins to repair and seal the crack, as well as the use of our patented high tensile strength locks which provided additional durability.
During the process of metal stitching repair comprehensive magnetic particle crack inspections were completed to ensure the integrity of this cast iron repair project. We originally undertook the project in 1998; however repairs did not begin until 2012. The entire project was completed with only a 2 day turnaround. Metal stitching has definite advantages over welding for cast iron; this project is just one example of its benefits. At LOCK-N-STITCH Inc. we were very proud to be selected to partake in this project, and help to restore this small part of such an important historical landmark.
To learn more about this project, or the processes used to repair it, see the table below or contact us directly.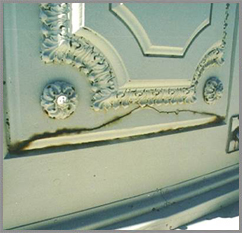 BEFORE: Damaged U.S.
Capitol Dome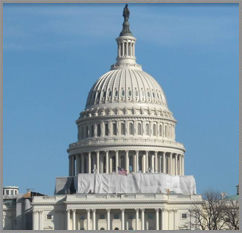 AFTER: Repairs after
Strength Locks Installed

Full-Torque Products Used:
Crack Repair Tools Used:
Highlights of the Metal Stitching & Crack Repair Project
Cast Iron Crack Repair Capabilities Applied/Processes

Primary: Crack Repair
Secondary: Metal Stitching
Equipment Used to Manufacture Part

Patented metal stitching pins, locks
Overall Part Dimensions

40 inches long crack
In process testing/inspection performed

Magnetic particle Crack Inspection
Industry for Use

Architectural Castings
Delivery/Turnaround Time

Undertaken in 1998, repairs began in 2012. Turnaround time, 2 day demonstration
Delivery Location

Washington D.C.
Standards Met

LOCK-N-STITCH Inc.
Additional Facts

The entire Dome was made of cast iron between 1855 and 1864. This cast iron is a weak cast iron with 10,000 psi tensile strength. This required special double hook thread stitching pins for this project.
Why did you choose this project to show case?

Historical relevance
More Engine Metal Stitching & Crack Repairs

Cast Iron Statue (PDF - 6.90 MB)