Metal Stitching & Machining Repair of Cast Iron Diesel Generator

Step by Step Report Presentation (PDF - 4.72 MB)
El Salvador's Nejapa Power identified damage in the cast iron engine block of their Wartsila diesel generator. The damage included holes into the coolant jacket, air box, lower liner bore, and cam box. At LOCK-N-STITCH Inc. we have the capability to repair large engines utilizing our metal stitching technology, onsite. The damaged section of the V18 cylinder engine was removed and new sections of cast gray iron patches were fabricated and installed utilizing Castmaster® stitching pins for the air box, lower bore, and cam side repair.
This offsite repair required the use of boring and milling machines, metal stitching tools, and liquid nitrogen which was used to press in the new bore sleeve.
Upon completion of the cast iron repair the Wartsila diesel generator was returned to factory specifications, and completed in just 4 weeks. This project exemplifies our ability to go anywhere in the world to provide cast iron repair.
To learn more about this project, see the table below or contact us directly.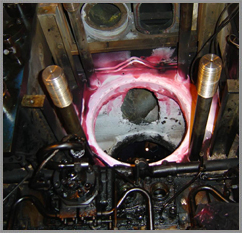 BEFORE: Connection Rod
Damage at Nejapa Power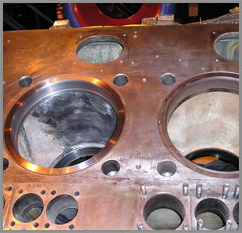 AFTER: Repair after
Machining & Stitching

Full-Torque Products Used:
Crack Repair Tools Used:
Highlights of the Metal Stitching & Machining Repair Project
Cast Iron Crack Repair Capabilities Applied/Processes

Primary: Metal Stitching, Installation of new sections
Secondary: In-situ machining, boring, sleeving, milling
Equipment Used to Manufacture Part

Boring machine, boring and milling machines, metal stitching tools, liquid nitrogen
Overall Part Dimensions

Large V18 cylinder engine
Material Used

Castmaster® stitching pins, new sections of cast gray iron, liner bore sleeves,
Material Finish

Hand finished or machined to match all existing contours
In process testing/inspection performed

Magnetic Particle Inspection, Pressure Testing – Quality Assurance
Industry for Use

Power generation
Delivery/Turnaround Time

4 weeks, 2004
Delivery Location

El Salvador
Standards Met

Returned to factory specifications
Additional Facts

Wartsila Diesel Generator (customer is Nejapa Power)
More Engine Metal Stitching & Crack Repairs

Cooper Bessemer LSV 20 Crankshaft (PDF - 2.54 MB)

Cooper-Bessemer LSV 20 Reconditioning (PDF - 2.80 MB)

Cracked Turbine Flange Repair (PDF - 1.54 MB)

Exelon Power Generation2 (PDF - 739 KB)

Man Engine Block Repair (PDF - 0.99 MB)

Nuovo Pignone 6B Gas Turbine (PDF - 665 KB)

Pedregal Power Final Report Thread Repair (PDF - 846 KB)

PG&E Strainer (PDF - 67.2 KB)

Steam Turbine Repairs (PDF - 1.68 MB)

Wartsila W6L20 Block Repair 12-31-12 (PDF - 1.34 MB)