Inspection & Non-Destructive Testing Services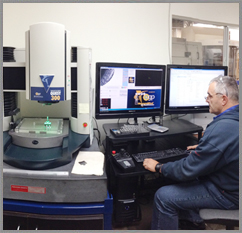 Capability:
LOCK-N-STITCH, Inc. provides inspection and non-destructive testing services in the shop or on site for clients in wide array of industries. All of our inspection services include cleaning and/or grit blasting the parts prior to inspection to ensure the integrity of the inspection and testing services.
We do both dimensional inspection and visual inspection, specifically crack inspection, wet and dry magnetic particle inspection, dye penetrant inspection, threaded hole inspection, as well as ultrasonic thickness inspection. In addition, we execute hydro testing, pressure testing, wire line inspection and have the CMM machines required to precisely inspect small parts and tooling. We are ISO compliant to ensure we meet our clients' exacting specifications and expectations. For more information on Lock-N-Stitch's in-shop and on-site inspection and non destructive testing services, please see the table below and feel free to contact us directly.
Inspection and Non-Destructive Testing Capabilities
General Capabilities
On-Site
In-Shop
Inspection Characteristics and Properties
Dimensional
Visual
Inspection/Testing Method

Non Destructive Testing (NDT)

Crack Inspection
Magnetic Particle Inspection (Wet & Dry)
Dye Penetrant Inspection
Threaded Hole Inspection
Dimensional Verification
Ultrasonic Thickness Inspection

Hydro Testing
Pressure Testing
Wire Line Inspection
CMM Inspection

Industry Focus

Agricultural
Architectural Castings
Automotive
Construction
Corrugated Box
Gas Compression
Internal Combustion Engine
Machine Tool
Manufacturing
Marine
Metal Working
Mining
Oil & Gas
Power Generation
Railroad
Shipping
Tire
Transportation
Trucking
Turbines

Industry Standards
ISO Compliant
International Organization for Standardization
File Formats Accepted

Alibre Design
AutoCAD (DWG,DXF)
BMP (Bit Mapped Graphics)
GIF (Graphics Interchange Format)
IGES (Initial Graphics Exchange Specification, ANSI file format.)
Inventor (IDW, IPT)
JPG or JPEG (Joint Photographic Experts Group)
PDF (Portable Document Format)
STEP (Standard for the Exchange of Product Model Data)
TIFF (Tagged Image File Format)